Coyote Hills: New Group Opposes the Opposition
A reader sent in this image taken last week on a hillside somewhere in Fullerton.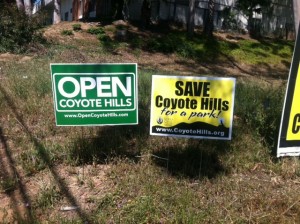 Check out the deftly-named Open Coyote Hills website that was listed on the sign.  The website was put up by a group of residents who support the proposed Coyote Hills project, it's associated parks and the opening of the 72-acre Robert E. Ward Nature Preserve that would come with it.
The "About" page lists an interesting cross-section of Fullerton's politically inclined.