Another Big Fringie Award. Most Engaging Political Flier. It's a sad fact that most positive, puff political pieces are mind numbingly boring and or stupid. They are almost uniformly awful. Maybe it's just human nature (I don't know I'm just a dead dog), but the hit pieces are always a lot more fun. And the more your attention gets grabbed, the better they are.
So here's your nominees:
1. The Food Poisoner. 'Tamnation, this ones right in yer face. Banner header, gross pictures of code violations, international barfer, nice, clean Helvetica text for the "informed voter," concluding banner footer. Message loud and clear: this pustule is a scum suck!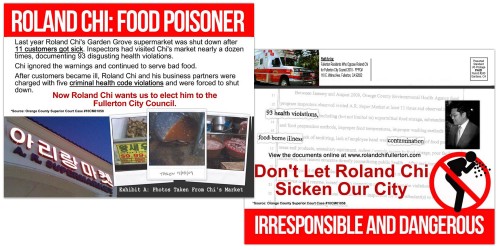 2. The Mug Shot. Nothing says municipal rip-off artist like a side-by-side with City of Bell crook Robert Rizzo. What makes this more fun is that the hard-stool-passing tough guy look by Fullerton's Pat McPension was actually harvested from one of his own puff pieces!
3. The Hot Air Balloon. from last spring comes this gem, an image of a giant Sidhu head floating over a nearly dwarfed map of OC, brilliantly symbolizing a massive ego and the throw-weight of a lighter than air balloon. Well done!
3. The Bankrupt. More brilliant graphic design. There's lotsa information here but it draws you in and tells you all you need to know about a first class sumbitch. A wonderful quote from a victim seals the deal. And the images are classic.
4. The Evil Hippy Elder Abuser. This one is actually pretty lame. The title alone hints that something stupid is on the way. But the nominating committee was captivated by the image of a dude who seems to be wearing beads!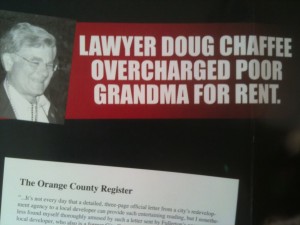 Email This Post To A Friend